Visual Target Acquisition System (VTAS) helmets (HGU-30/P, HGU-30A/P, HGU-31/P, HGU-37/P, HGU-46/P, and HGU-??)
Latest update 6 July 2008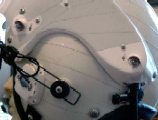 A size large VTAS II helmet showing the R-1825/AVG-8 VTAS II (Visual Target Acquisition System)
helmet visor assembly. According to the information provided by Figmo this is an HGU-37/P (see
text below). Pictures © Blaster
The US Navy were the first to field an operational helmet-mounted sight system in a fighter aircraft, the Visual Target Acquisition System, also known as VTAS. The VTAS interfaced with the Sidewinder Expanded Acquisition Mode (SEAM) installed in US Navy F-4 Phantom II aircraft to exploit the advanced lock-on possibilities in the AIM-9G Sidewinder air-to-air missile. From 1969 the SEAM was incorporated in the F-4J and enabled the missile to be locked on a target off boresight slaving the missile's seeker head to the aircraft radar. The VTAS system allowed the Sidewinder seeker or the aircraft radar to be slaved to the position of the pilot's head using the sight picture displayed on his 'Granny Glass' (VTAS I) or on the inside of his visor (VTAS II). The VTAS system was incorporated in F-4J Block 45 and 46 aircraft and later retrofitted to earlier aircraft. VTAS and SEAM were also incorporated in those F-4B that were updated to F-4N standard from 1970 onwards under the Bee Line programme.
It is fairly common knowledge that VTAS helmets came in two versions, VTAS I and VTAS II. Most are unaware, however, that a VTAS III helmet was developed based on the HGU-35/P experimental helmet. At least five HGU-designations have been associated with VTAS helmets, HGU-30/P, HGU-30A/P, HGU-31/P, HGU-37/P, and HGU-46/P.
HGU-30/P VTAS I helmet based on APH-6 helmet. Type designation March 18, 1971. Type designation states the helmet is a modified APH-6 for VTAS system manufactured by McDonnell-Douglas. Gentex and Sierra are the helmet manufacturers.
HGU-30/P 2nd type designation June 5 1972 VTAS I helmet. Even if it is not confirmed it is is most likely still an APH-6 shell, but with a form fitting liner manufactured by Protection Inc, medium part number 4211-1; large = 4211-2. This is the fitting liner normally referred to by the USAF as the "commercial" liner. Optic infrared sight receiver R-1739/AVG-8, VTAS.
HGU-30 A/P (3rd reference May 11,1973). VTAS I helmet based on the PRK-41/P helmet shell (same as PRK-37/P but drilled for VTAS I system). Gentex listed as the manufacturer and the helmet is listed as using the on site form fitting system sizes medium and large. EEK-4/P single visor, PRK-39/P form-fit liner and R-1739/AVG-8 infrared optical receiver (granny glass).
HGU-31/P 19 Oct 1971. Nearly identical down to the part numbers Protection Inc but now being called HGU-31/P. HGU-31/P was cancelled June 5 1972: helmet was never procured, stocked or issued.
HGU-37/P July 26, 1974. VTAS II helmet based on the PRK-42/P shell (same as PRK-37/P but drilled for VTAS II). Gentex listed as manufacturer. PRK-39/P on site form fit liner. Uses the Honeywell Inc. VTAS II system. Sizes Medium and large. Visor is VRHMU-1826/1825/AVG-8 fiberglass. One piece visor electronics.
HGU-46/P (From NAVAIR). VTAS II helmet based on the PRK-37/P helmet shell using special dual visor housing, PRK-39A/P liner (VTEC liner).
HGU-?? It is not known which HGU-designation was used for the VTAS III, if any at all. It should be borne in mind that the IHADDS helmet for the AH-64 Apache helicopter does not have an HGU-designation so the VTAS III might not either.



VTAS-III helmet based on the HGU-35/P helmet. This poor quality pictures comes from a photocopy of a 1976 report from the SAFE association. © NADC, US Navy
More information is available in the article VTAS/Helmet Interface from the 1976 SAFE Association Proceedings and the article Visually Coupled Systems from Air University Review 1974.